Introducing the EcoGas 600 Series
PBA are the SF6 gas experts. We are proud to bring you an innovative range of economic and environmentally sound products that enable superior asset management of SF6 gas and switchgear.
The EcoGas 600 Series offers you a uniquely integrated and complementary product suite; the first of its kind. From its compact and powerful gas cart to a fitting/filling kit, mass flow meter, database and data interface app, using the EcoGas 600 Series will ensure not only compliance with stringent legislation and specification, but also deliver unrivalled asset management capability.
Couple these features with our SF6 expertise and you can be assured you are working with a range of products that is 100% backed by the industry leader.
The PBA EcoGas 600 Series - economic and environmentally sound SF6 handling.

---
Online SF6 Monitor (EcoGas 600P)
Accurate remote monitoring of SF6 gas status
Cost effective SF6 gas monitor solution optimised for remote monitoring, providing a range of measured and calculated parameters.
Provides accurate real time data, local and remote alarm flags and SF6 gas condition indication.
When integrated with the EcoGas 600D database, historical and real-time leak rate data is available to update existing asset management platforms.
Key features:
Compact field solution
Local display of key SF6 status measurements and alarm conditions
Continuous SF6 emission and leak rate calculation by asset
EcoGas 600D database integration
View field data in real time

predicted time to top up
predicted time to lock out
parameter rate of change alerts

Remote communications options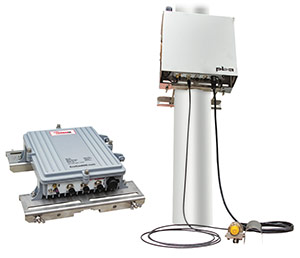 ---
SF6 Database (EcoGas 600D)
Create smart data with our intelligent SF6 database
It's simple, paperless and automated to record and download measurements via USB stick or your smart device (using our 600A), to our purpose built 600D SF6 database. From here examine your data from any perspective - a CEO, asset manager, EPA report or other.
Key features:
Record, analyse and communicate:

SF6 gas movements and identify leaks/losses
The locations of gas cylinders and the quantities of gas held in those cylinders

Easily track measurements over time, enabling reporting and predictive functionality
Provide accurate asset management information on circuit breaker gas volumes, enabling better leak management
Compliant with industry standards and legal requirements
Paperless and automated, delivering more timely and accurate reporting
Intelligent presentation of data, for a range of key data users, including CEO's, asset managers, and EPA reporting
Accessible - seamlessly integrating with PBA's 600M and also directly accessible via your smartphone or tablet using the 600A interface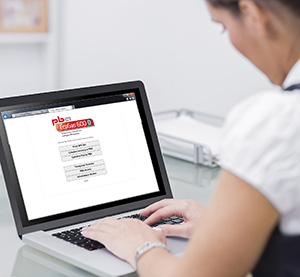 ---
Data Interface App (EcoGas 600A)
Your direct, real time SF6 data field application
If you need immediate onsite access and interaction with the 600D, the 600A is the application for you. The 600A is the most convenient and efficient way to access and update your SF6 data directly to the 600D.
Key features:
Direct interface with the 600D via your smartphone or tablet
Paperless, user friendly, real time data access and upload
Database enable automation reduces the amount of data input required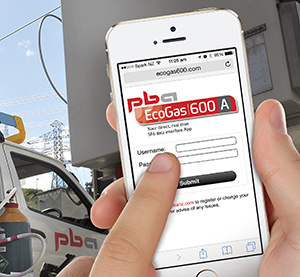 ---
SF6 Gas Cart (EcoGas 600G)
The small, clever and powerful SF6 gas cart
PBA's EcoGas 600G SF6 Gas Cart is the most compact, portable and versatile option available when you need to meet and exceed stringent legislation and specifications covering SF6 management.
Key features:
Despite its compact size, the 600G offers the capacity for pulling vacuum. It will comfortably achieve 50 millibar. In fact PBA's 600G will continue to pull vacuum down as low as 10 millibar!
Highly portable, with forklift fittings for easy loading through the side door of a van
Onboard scales eliminate the need for weighing individual bottles
Single phase power source for convenience onsite
Simple DIY servicing and replacement of filters reduces gas cart maintenance costs. This means no degassing of the cart is required and the cart can degas its own filter before removal to allow cartridge replacement without emission to atmosphere
High compression liquid storage
Up to 60 kg/hour capacity
Integrates with and supported by PBA's fitting/filling kit (600F), mass flow meter (600M) and SF6 database (600D)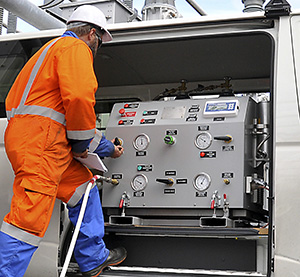 ---
SF6 Gas Fitting/Filling Kit (EcoGas 600F)
All the fittings you'll ever need in one portable, easy access case
Avoid lost time and additional costs from not having the right fitting on site when you need it. The 600F is an SF6 fitting/filling kit, custom built to meet your particular needs, in support of our own 600G and other gas carts.
Key features:
Customised to your asset fleet's specific requirements
Comprehensive, yet laid out for quick and easy fitting selection
Highly portable
Seamless integration with PBA's 600G and other gas carts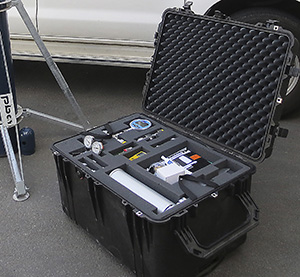 ---
SF6 Mass Flow Meter (EcoGas 600M)
Seamlessly gather the right data with the SF6 mass flow meter
The 600M SF6 mass flow meter supports both PBA's own 600G and other gas carts, combining several key measures in one easy-to-use digital device; generating data that aligns with various clients' reporting specifications and increasingly stringent legal requirements.
Key features:
One compact, portable device measures:

Quantity (mass flow) out and in of each vessel (cylinder or equipment)
Flow rate (a requirement often not adhered to)
Dew point, pressure and temperature (for quality control)

Informative, easy to read LCD display and data input panel
Produces export files for upload to your asset management software for complete data integration
Seamless data transfer via USB enables simple download/upload from the 600M to PBA's SF6 database, the 600D, in compliance with legislation
Seamless integration with PBA's 600G and other gas carts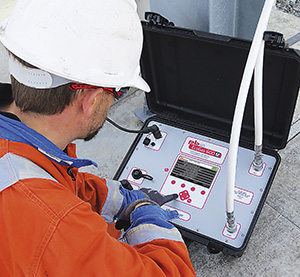 ---
SF6 End of Life Disposal Service (EcoGas 600E)
Best practice SF6 end of life disposal service.
The disposal of SF6 assets requires special care to ensure that potentially harmful decomposition products built up over the life of the asset, are disposed of in a safe and environmentally responsible manner meeting regulatory requirements.
Additionally, SF6 gas as a regulated synthetic greenhouse gas, has specific regulatory requirements covering its disposal, record keeping and reporting, that asset owners are required to report and maintain.
The EcoGas 600E platform provides a unique and cost effective disposal solution providing end to end management, utilising the cloud-based customer portal where users can request, monitor, and report the disposal of SF6 assets and gas.
PBA disposal activity is available either as an on-site service or accessible through one of our fully equipped regional workshops.